Master improvisor and teacher David Razowsky returns again to Sydney in August 2019, to present two specially selected improv masterclasses. A master improvisor and teacher of theatrical improvisation and acting, David is the most experienced Chicago improvisor ever to teach in Australia. Each time he visits Sydney he has a huge impact, and this visit will be no different. These will be the only workshops David is doing in Sydney, and will sell out quickly.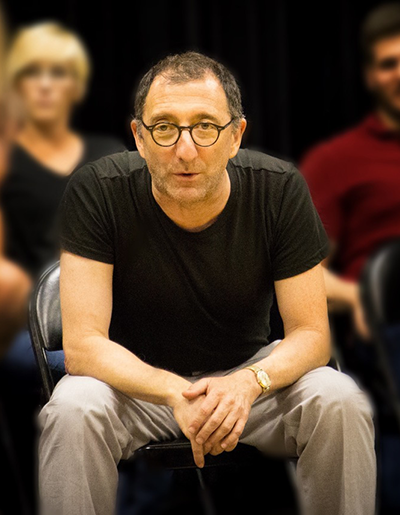 Evening workshop
David will be giving a 3 hour evening workshop on Wednesday 14 August 2019, for $125 INC GST.
Strong Entrances, Strong Choices. Be aware of all that's happening at the top of your scene and you'll be aware of the power you have in your character. It starts as all things do: at the beginning!
Full day workshop
David will also be giving a full day workshop on Sunday 18 August 2019, focusing on the art of surprise and strong choices. This is a unique opportunity to work with David consistently over a full day, for only $240 INC GST.
The Art of Surprise. Do you dare to just connect? Are you courageous enough to just let the relationship start then decide the details later…when you need to! Holding back surprises the audience…because it surprises YOU!
Get Specifics. Open up your scenes by adding the specifics to your world, adding flavors and exotic elements to your scenic menu. Play your scenes like a great jazz musician riffing on a jazz standard! Your mind will soar, your characters will be exciting to play, and your scenes will have a vibrancy that you never imagined.
Get the full package
Want to book both workshops at a discount? Book our David Razowsky Improv Masterclasses Package, for a total cost of only $325 INC GST for 9 hours of David Razowsky.
Who, What, How
Each workshop is strictly limited to 16 people so you get more Dave time. Well, it's slightly less than that, because our teachers and staff have already bought a few.
These workshops may be treated as individual sessions, but they are also designed to lead into each other. So if you take them all, then you're running a full programme of escalating Daveness!
Requirements: At a minimum you must have some minimal previous improv or acting experience, either a level or two of improv or acting classes or on stage experience. David's workshops are designed to work well for beginners through to those with many decades of professional improv and acting experience.
David Razowsky spent 10 years as Artistic Director of The Second City Hollywood, and has worked as director, performer and in various consultancy roles with companies such as iO, Annoyance, Steppenwolf, Dreamworks, Whose Line Is It Anyway, and Amsterdam's Boom Chicago. He was also a staff writer for The Simpsons Comic and The Simpsons Sunday, has presented at TEDx, and of course directed and performed many shows with The Second City main stage (with his fellow cast members including Steve Carrel, Stephen Colbert and Jeff Garlin) and Second City touring companies. He's been called "the guru of improvisation", and "an improvisor's improvisor", who connects mindfulness with improvisation's core principals of being in the moment, taking care of your partner, and groundedness. Basically, he rocks, and his CV is way too long.
Testimonials
Here's a few selected testimonials from previous workshops we've run with David Razowsky.
"I attended both the David Razowsky workshops in October 2017 and learnt a lot from them. I have some experience learning David's teachings via other teachers but to work with the Man himself was amazing. I feel like I've grown not just as an actress and improviser but as a person."
"I thoroughly enjoyed David Razowksy's workshops, it added a new and exciting dimension to my exploration of improv. I appreciated David's passionate one-on-one coaching and the influence of mindfulness and zen concepts in David's style really resonated with me."
"It was great to work with such an experienced Improviser from the second city. All of the inputs during the workshop was so very helpful for all the scenes that I would do in the future."
"A lot of teachers let things slip, but David is honest, direct and to the point, and wants everyone to get the most out of his work. Love this about him!"
"I admire his passion and insight. It has definitely changed (fixed?) the way I play."
"Wow. I thought my impro was present and in the moment. Now I get it!"