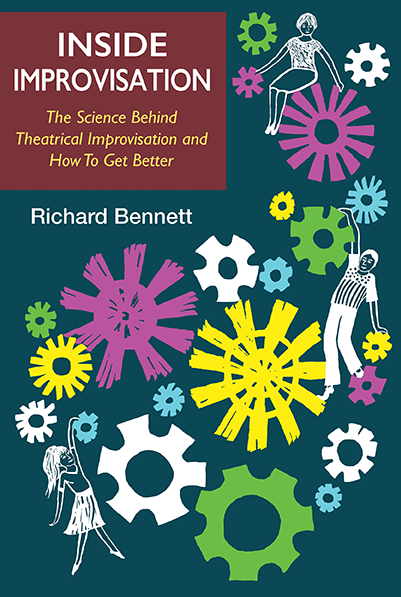 ISBN 978-0-6483698-0-6 (paperback)
ISBN 978-0-6483698-2-0 (hard cover)
ISBN 978-0-6483698-1-3 (Kindle eBook)
Inside Improvisation – The Science Behind Theatrical Improvisation and How To Get Better, was published in July 2018. Written by Academy of Improvisation (AOI) principal Richard Bennett, Inside Improvisation explains how improv works from start to finish, referencing all the science that makes it work and how to become a much better improvisor. Over 10 years in the making, it's set to be a classic foundational text.
How our bodies and brains work while improvising is completely explored, giving new insight into how to become a better improvisor. Classic rules and processes for learning and practicing improv are challenged, and well debated arguments and myths are finally debunked. Intermingled with historical references to key discoveries and with personal anecdotes from climbing the improvisation ladder.
Topics include:
group mind explained
divided attention vs. split attention and being in the moment
fear and anxiety
Johnstone vs. Chicago, short–form vs. long–form, facts and fallacies
flow
the long and influential history of improvising today's news stories
what makes improv funny and is it always funny?
the use of drugs and alcohol in improvisation
how players communicate intention without realising it
…and much much more
Paperback RRP AUD$32.95, USD$29.95, GBP£19.95, EUR€25.00, CAD$32.95
Free sample
Want to see what's inside? Download our free sample PDF, which includes over 30 sample pages from various sections of the book. Inside-Improvisation-free-sample.pdf (1.9MB)
Where to buy
Inside Improvisation is available for Kindle, in paperback and in hard cover.
You can purchase with a slight discount from our site if you're shipping to an Australian address, with an option to have it personally signed by the author. It's also available from most books shops around the world as a special order, or from most online book stores. The eBook is exclusively available for Kindle from Amazon.
If you're taking classes with us, then we recommend that you don't read this book until you have successfully completed our Improv 4 class. If you're a student in one of our Chatswood or North Sydney classes, you can purchase through our website and have it delivered to class to avoid the $15 postage fee.
Australia
Amazon Australia — Kindle eBook
Amazon Australia — paperback
Amazon Australia — hard cover
Booktopia — paperback
Fishpond — paperback, ships from U.K.
Canada
Amazon Canada — Kindle eBook
U.K.
Amazon U.K. — Kindle eBook
Amazon U.K. — paperback
Amazon U.K. — hard cover
U.S.
Amazon — paperback
Amazon — hard cover
Amazon — Kindle eBook
Barnes & Noble — paperback
Reviews & Ratings